---
As featured in:

I was interviewed around 2004 by Monte Cahn who owned Moniker.com at the time. It was my first interview that related to domains and domaining.

I was voted the "Secret Agent" at the 2nd or 3rd event around 2006 and interviewed by Yanik Silver due to my extensive domain knowledge.

I was mentioned repeatedly by Noah Kagan during his interview regarding the acquisition of Sumo.com for $1.5MM. I worked on this domain for 1 year!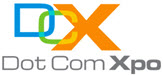 I was invited to speak at this event by Ryan Lee where Daymond John (Shark Tank) also spoke. This was an amazing event and where many friendships were formed.

In 2004 this was the original domain name show and where I got to know everyone in the domain world. I was in awe at the people I met – they owned registrars (like Moniker.com) and owned category killer domains.
---